What if the US Government officially recognized American Sign Language, and implemented ASL in essential road and information signs across the country?
This is not unusual as many countries have a multi-lingual policy. Here are a few examples: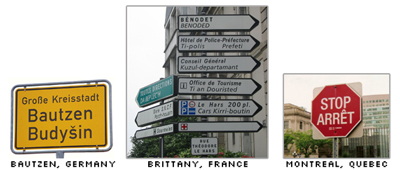 Now, take a trip through a bilingual ASL/English country:
*****
To learn more about written ASL, check out How to Write American Sign Language!
*****
Image credits:
Bautzen photograph by j budissin. Gallaudet front entrance photograph by Daniel Lobo. Brittany, Montreal, and Jersey signs are in the public domain, from Wikimedia Commons. Images modified by Adrean Clark.